How ESG factors affect corporate credit risk and performance
Guido Giese and Hitendra Varsani, Executive Directors in MSCI's Core Research team, share the key insights from brand new research looking at the impacts of ESG factors on credit investing.
You can download MCSI's research paper here.
Watch our video interview to learn:
The key highlights MSCI's new research.
What are some of the notable differences and similarities between equities and credit when it comes to ESG
How ESG impacts investment grade and high yield bonds
What are the fundamental risk implications of incorporating ESG in credit
What the impact of ESG is on financial performance
Within E, S, and G, is G the most important for corporate credit?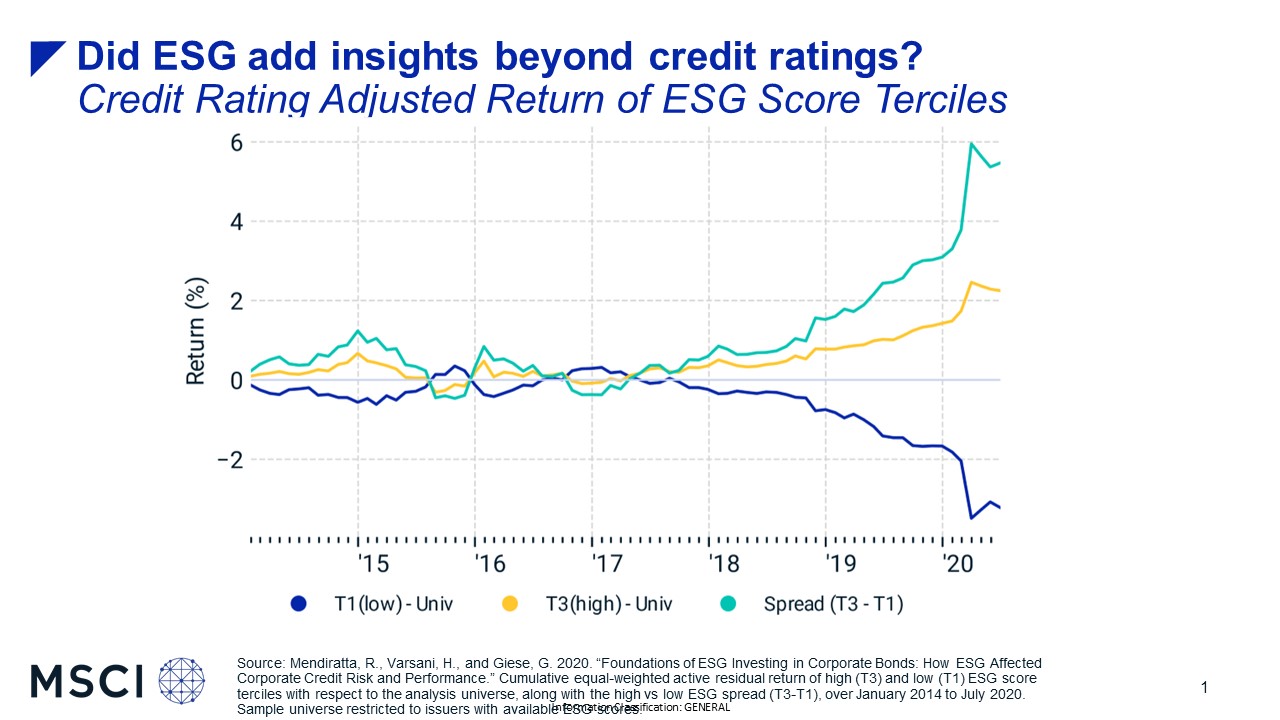 Speaker bios
Guido Giese is an Executive Director in MSCI's Core Equity Research team, where he is responsible for applied research and thought leadership in key areas such as ESG integration, impact investing and factor investing. 
He has more than 20 years' experience in research and product development in the asset management industry. 
Guido holds a PhD in Applied Mathematics from the Swiss Federal Institute of Technology Zurich and has authored numerous articles in international journals for quantitative finance and risk management. 
Hitendra Varsani, is an Executive Director within MSCI's Core Index Research team, based in London. His research areas of focus span factor and ESG investing in equities and fixed income. 
Over his career, Hitendra has published a number of papers on dynamic asset allocation, the use of alternative risk premia in portfolio design, as well as the strategic use of options and volatility related derivatives for portfolio risk management. 
Hitendra has worked with broad range of investors covering the world's leading hedge funds, asset managers, as well as asset owners, to provide bespoke services and solutions. 
Hitendra holds a degree in Mathematics and Computer Science from Kings College London, and a Masters in Mathematical Finance from Imperial College London.
 For the full analysis, take a look at the paper, Foundations of ESG Investing in Corporate Bonds: How ESG Affects Credit Risk and Performance.  
You can download MCSI's research paper here.
Please Sign In or Register to leave a Comment.
SUBSCRIBE
Get the recent popular stories straight into your inbox